Get out and cut your free, Alaska-grown Christmas tree
Worried about the expected national shortage of both real and artificial Christmas trees this holiday season due to supply chain issues related to the COVID-19 pandemic?
Well, the Alaska Division of Forestry has good news. The Last Frontier is full of healthy, Alaska-grown Christmas trees available free to anyone who is willing to tromp into the woods to cut one down.
"Alaska's natural resources not only sustain our economy and our communities, they can play an important role in our cultural and spiritual lives," said Governor Mike Dunleavy. "This opportunity for Alaska families to cut down their own Christmas tree, for free, is another way we are supporting using our resources to benefit Alaskans."
A Christmas tree is the focal point for many homes during the holidays, and news stories are circulating across the U.S. about the potential lack of trees on the retail market this season. But that's not a problem in Alaska, where the Division of Forestry allows families to cut one spruce tree – either black or white – located on state land and no more than 15 feet high.
Households are limited to one tree no more than 15 feet in height, and no permit or fee is required. Maps and information on Christmas tree harvesting in Southcentral and Interior Alaska – as well as information about how to care for your fresh-cut tree – are available at http://dnr.alaska.gov/commis/pic/christmastree.htm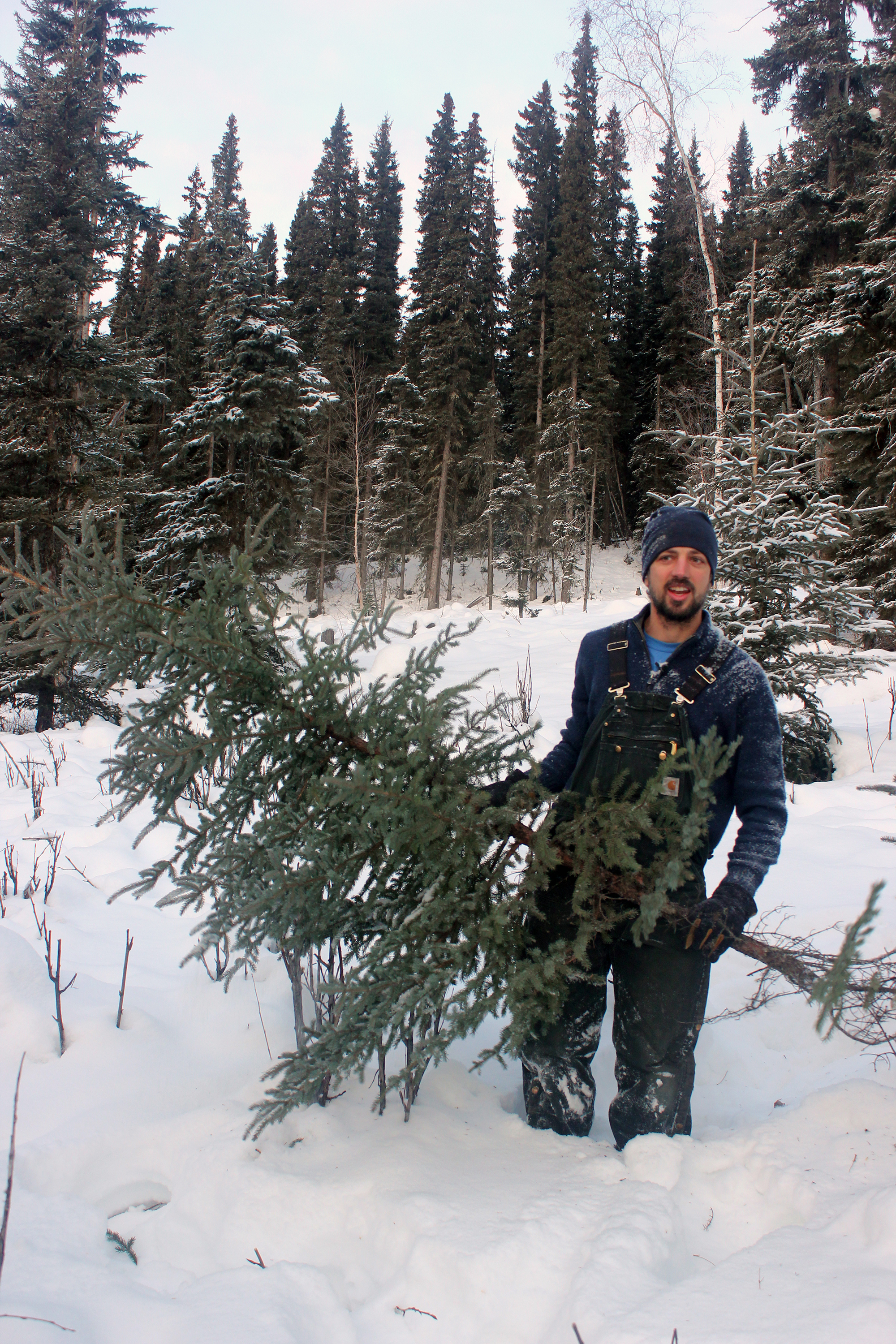 "Cutting an Alaska-grown Christmas tree is an annual tradition for many Alaskans, and we encourage people to continue that tradition and take advantage of this renewable resource," said Department of Natural Resources Commissioner Corri Feige. "It's a great opportunity to spend time together as a family, get some fresh air and save a few dollars."
Cutting your own Christmas tree is a perfect COVID-19 activity, too. It's outside, it's easy to socially distance, and that facemask you wear against the cold will also help protect against the coronavirus.
Here are some guidelines for safe, legal cutting of Christmas trees on state public lands:
Properly identify who owns the land where you intend to cut your tree. If you have any questions on land ownership, call the nearest Division of Forestry office.
Cutting trees in state parks, experimental forests and commercial timber sales is prohibited.
Maximum tree height is 15 feet.
Christmas trees cut on state land are for personal use only and may not be sold.
The division does not maintain forest roads and anyone traveling on them should be properly equipped to do so. Have warm clothing and appropriate equipment in case you get stuck, including tire chains, shovel and tow strap.
Cut trees as low and close to the ground as possible.
Do not litter, and be courteous to other tree cutters and residents.
For a directory of area forestry offices around the state, including addresses and phone numbers, go to http://forestry.alaska.gov/. Answers to additional questions are available at the Department of Natural Resource's Public Information Centers in Anchorage (907-269-8400) or Fairbanks (907-451-2705).
CONTACT: Tim Mowry, (907) 590-4038, tim.mowry@alaska.gov
Alaska Community Forest Council offers Arbor Day grants
The Alaska Community Forest Council is offering grants to help organizations commemorate Arbor Day in Alaska, which will be celebrated on May 17.
Arbor Day is America's national tree planting holiday, a day set aside to plant ceremonial trees, educate children about the significance of trees, and honor the crucial role that trees play in our communities and lives. In Alaska, Arbor Day is celebrated on the third Monday in May.
The Alaska Community Forest Council is a nonprofit organization with 15 members from around the state, which advises the Division of Forestry on how to develop and deliver community forestry programs to Alaskans, support education, and encourage public involvement.
The council is offering grants in the $200-$500 range, which can be used to plant trees or shrubs, or support other activities that promote Arbor Day in Alaska. The grants are aimed at local governments, schools, and nonprofit organizations. Grant applications are accepted year-round. Applications will be reviewed as they are received, and grant awards will be announced following the council's quarterly meetings in May, August, November, and March.
The grants are intended to fund projects that:
Generate awareness of and participation in Arbor Day in Alaska
Increase public awareness of the benefits of trees and forests and build support for planting and caring for public trees.
Provide a public demonstration of the benefits of trees and/or proper tree selection, planting and care.
Use trees to solve community problems. Examples include reducing or treating storm water, creating wind breaks or living snow fences, restoring streams and rivers, planting fruit trees to provide healthy food, screening surfaces prone to graffiti, calming traffic, and beautifying school yards.
Grant funds were provided by contributions from the Society of American Foresters Cook Inlet and Yukon River Chapters, and Paul's Tree Service. For more information and grant application forms, visit: http://forestry.alaska.gov/community/council
CONTACT: Gino Graziano, council member, 907-786-6315, gagraziano@alaska.edu
Spruce Beetle Website Launched
The Spruce Beetle Working Group has recently launched a website with information on spruce beetle in Alaska's trees and forests. It is designed to be used by anyone who is interested in spruce beetles, has questions about spruce beetles, or has spruce beetle issues in their trees.
This website is a collaborative effort among the US Forest Service, the Department of Natural Resources - Division of Forestry, and the UAF-Cooperative Extension Service.
Forestry Social Media Sites
DOF now has Facebook, Twitter, and Youtube pages:
Individual links to Youtube content: