Head into the woods to cut your free Alaska-grown Christmas tree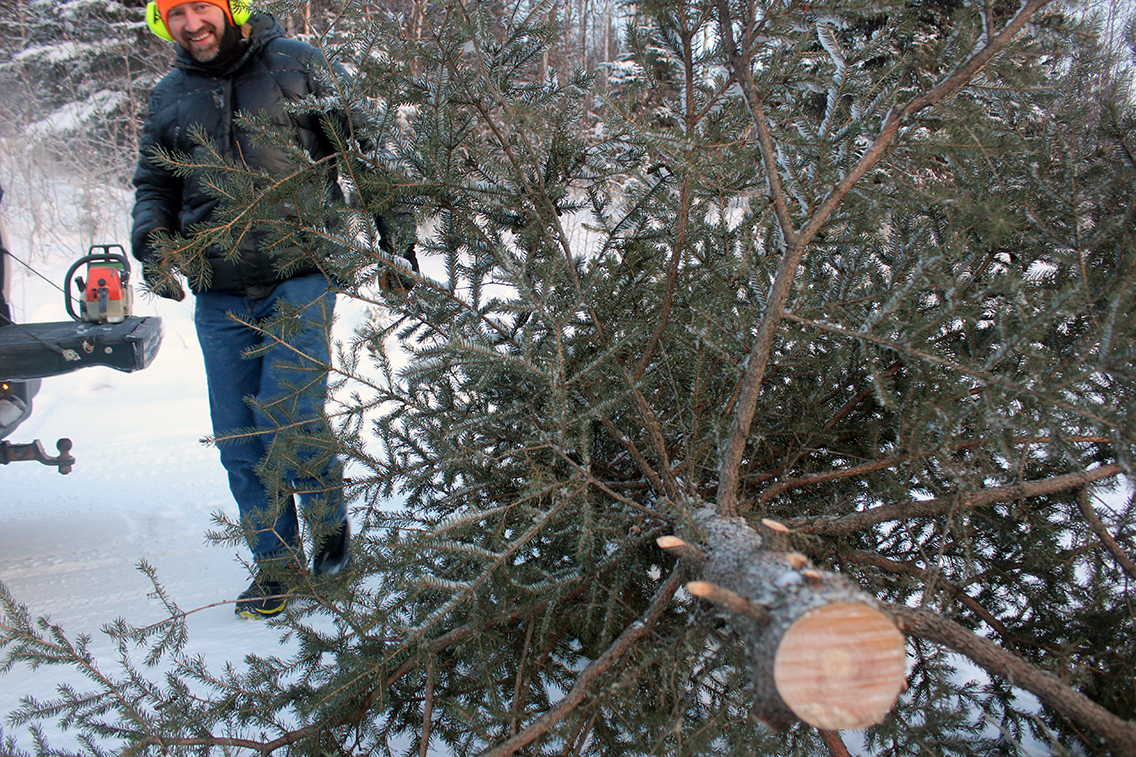 With the Christmas season fast approaching, now is the perfect time to trek into the woods to find your Alaska-grown tree to help celebrate the holidays.
A Christmas tree is the focal point for many home holiday decorations, and while local retailers sell imported trees, many Alaskans prefer to venture into the woods to seek out and harvest their own tree, for free. Helping make this possible is one of the Alaska Division of Forestry's own holiday traditions.
"Cutting an Alaska-grown Christmas tree is an annual tradition for many Alaskans and there's no need for that to change this year," said Governor Mike Dunleavy. "Get out there and take advantage of the great land we live in and the renewable resources it provides."
Each household is limited to one tree, which can be no more than 15 feet high. There are no fees, and no permit is required. Maps and information on Christmas tree harvesting in Southcentral and Interior Alaska – as well as information about how to care for your fresh-cut tree – are available at http://dnr.alaska.gov/commis/pic/christmastree.htm
Given COVID-19's impact on so many aspects of life, cutting your own Christmas tree is a perfect COVID activity: it's outside, it's easy to socially distance, and it's likely that the facemask you wear against the cold will also help protect against the coronavirus.
Here are some guidelines for safe, legal cutting of Christmas trees on public lands:
Properly identify who owns the land where you intend to cut your tree. If you have any questions on land ownership, call the nearest Division of Forestry office.
Cut trees as low and close to the ground as possible.
Cutting trees in any state parks or experimental forests is prohibited.
Christmas trees cut on state land are for personal use only, and may not be sold.
The division does not maintain forest roads, so those traveling on them should have warm clothing and appropriate equipment in case they get stuck, including tire chains, shovel and tow strap.
Do not litter, and be courteous to other tree cutters and area residents.
For a directory of area forest offices, including addresses and phone numbers, go to http://forestry.alaska.gov/. Answers to additional questions are available at the Department of Natural Resource's Public Information Centers in Anchorage (907-269-8400) or Fairbanks (907-451-2705).
CONTACT: Tim Mowry, Division of Forestry public information officer, (907) 590-4038, tim.mowry@alaska.gov
State Board of Forestry plans meeting for Dec. 8
The public is invited to participate in a Board of Forestry teleconference meeting on Tuesday, Dec. 8 from 8 a.m. to 4:30 p.m. to discuss statewide forestry issues.
The nine-member Board of Forestry advises the commissioner of the Department of Natural Resources (DNR) on forestry regulations, provides a forum for those interested in forestry to discuss and seek resolution to issues concerning state forest resources, and makes recommendations to the Governor and Legislature on research needs.
Topics on the board's agenda for the December meeting include:
Forestry and forest practices budgets and proposed legislation
Division of Forestry (DOF) COVID-19 mitigation. and lessons learned on Lower 48 fires
DOF's hazard fuel reduction program
Statewide forest management issues including reports on the Tongass Roadless Rule, Mental Health Trust land exchange, and DOF timber sales and partnerships with federal agencies
Presentations on young-growth timber in Southeast Alaska, and a firewood kiln in Fairbanks
Other forestry matters may be included on the agenda. The meeting is intended to comply with the requirements of AS 41.17.047(b) and (d). Public comment is scheduled for 10:45 a.m.
The board meeting will be accessible via WebEx as a teleconference and webinar.
Connect via webinar:
https://stateofalaska.webex.com/stateofalaska/j.php?MTID=mf426170dfee0c0db94e3fb64d9678965
Meeting number: 133-017-0684
Password: Ng6DmA6kNQ7 (64636265 from phones)
Connect via phone:
Phone number: (650) 479-3207
Meeting number: 133-017-0684
Password: 64636265
The agenda is posted below. Contact Alison Arians by noon on Monday, Dec. 7, for additional information about the meeting, or for special accommodations due to audio or visual impairment. You may contact Arians at any time to get on the mailing list for announcements of future Board of Forestry meetings.
CONTACT: Alison Arians, 907-748-3712, alison.arians@alaska.gov
Agenda (PDF 136KB)
US Forest Service and State Division of Forestry publishes Tongass Young-Growth Forestry Analysis
The USFS has just published their Analysis of Young-Growth Forest Inventory Information and Future Timber Volume Estimates on the Tongass National Forest (see link, below). The report documents how new young-growth forest inventory data was collected and analyzed, and young-growth stand mapping was updated, in the effort to better quantify and describe the young-growth forest resource as it exists across the entirety of the Tongass National Forest. Using the results of young-growth data analyses and revised mapping, the report provides:
An estimate of the extent and character of the gross young-growth timber base across the entire forest.
A preliminary, map-based estimate of falldown percentage in young-growth timber stands.
An estimate of the extent of the net young-growth timber base that will be managed for future timber production and harvest.
A projection of the potential future flow of young-growth timber volume over time.
Descriptions of the new young-growth forest planning tools developed during the project.
Joint State & Federal Press Release
Tongass National Forest Young-Growth Forestry Analysis
2020 Forest Action Plan Coming Soon
The Alaska Division of Forestry is updating the statewide Forest Action Plan, which was first developed in 2010 and revised in 2016. The Forest Action Plan provides a roadmap for the Alaska Division of Forestry and forest stakeholders to prioritize where and how to apply strategies that will make the most of federal, state, local, and private funding to address forest issues across all lands. The Forest Action Plan works towards achieving national conservation goals to conserve working forest landscapes, protect forests from harm, and enhance public benefits from trees and forests. Find out more here
How to subscribe to Alaska Online Public Notices for your area
Did you know that you can sign up to receive online public notice emails for your local area? If you have access to an email account, you don't have to rely on fliers or newspaper notices to find out what projects or activities are proposed on state land near you.
Go to: https://aws.state.ak.us/OnlinePublicNotices/, scroll down to Subscriptions, and click on "search now" to build a custom subscription. If you're most interested in timber sales, or other land use activities, you can choose Department: Natural Resources, and Category: Public Notices. (You don't need to select a Sub-Category.) Then choose the areas you're interested in (for example, Tok or Wrangell). Scroll down to the bottom of the page, and click "subscribe," choose email, and enter your email address in the pop-up box. You'll get an email back from the system, and you'll need to click on a link to confirm your subscription.
Roadless Rule
On September 24, 2020, the U.S. Department of Agriculture released its Final Environmental Impact Statement for the Alaska Roadless Rule [USDA press release]. A copy of the final statement is available on the project website (click on the Analysis tab).
Governor Dunleavy issued a press release on September 25, 2020, supporting the USDA's FEIS:
After a thorough public process, the Forest Service's final Environmental Impact Statement identifies its Alternate Six – an unconditional, full exemption – as its preferred alternative. The Record of Decision (ROD) and final Alaska Roadless Rule are expected to be effective immediately after being published in late October.
For more information about the public process, see this link to the Alaska Roadless Rule Citizen's Advisory Committee.
Spruce Beetle Website Launched
The Spruce Beetle Working Group has recently launched a website with information on spruce beetle in Alaska's trees and forests. It is designed to be used by anyone who is interested in spruce beetles, has questions about spruce beetles, or has spruce beetle issues in their trees.
This website is a collaborative effort among the US Forest Service, the Department of Natural Resources - Division of Forestry, and the UAF-Cooperative Extension Service.
Forestry Social Media Sites
DOF now has Facebook, Twitter, and Youtube pages:
Individual links to Youtube content: