Tanana Valley State Forest Citizens' Advisory Committee to meet at 6pm on Thursday, April 15th
The public is invited to attend the upcoming Tanana Valley State Forest Citizens' Advisory Committee meeting at 6pm on Thursday, April 15th. The meeting will be held virtually, via WebEx. This committee advises the Division on plans and proposals for managing the 1.8 million acre Tanana Valley State Forest, along with other forested state-owned lands within the Tanana Valley. Public testimony will be accepted during the meeting.
Topics for the CAC meeting include:
Update on project: 'Investigating Changes in Forests Across Alaska and Canada
Update on Rosie Creek Recreation & Forestry Partnership
Update on "Alaska Long Trail": Fairbanks to Nenana
Aurora Energy's firewood kiln, pellet mill and related timber sales
Wood-burning stoves and pollution in Fairbanks
Existing and potential record trees
Fairbanks/Delta Area Update
Tok Area Update, including Tok Five Year Schedule of Timber Sales
Statewide Forestry update
Please see the attached agenda for more details.
Please contact Alison Arians for special accommodations at alison.arians@alaska.gov or (907) 748-3712 before April 14, 2021.
For additional information about the TVSF CAC, visit the committee's webpage at http://forestry.alaska.gov/tvsf_committee.htm. If you would like to receive future announcements of Citizens' Advisory Committee meetings by e-mail, please contact Alison Arians at alison.arians@alaska.gov or (907) 748-3712 to be added to the committee's mailing list.
Alaska Community Forest Council offers Arbor Day grants
The Alaska Community Forest Council is offering grants to help organizations commemorate Arbor Day in Alaska, which will be celebrated on May 17.
Arbor Day is America's national tree planting holiday, a day set aside to plant ceremonial trees, educate children about the significance of trees, and honor the crucial role that trees play in our communities and lives. In Alaska, Arbor Day is celebrated on the third Monday in May.
The Alaska Community Forest Council is a nonprofit organization with 15 members from around the state, which advises the Division of Forestry on how to develop and deliver community forestry programs to Alaskans, support education, and encourage public involvement.
The council is offering grants in the $200-$500 range, which can be used to plant trees or shrubs, or support other activities that promote Arbor Day in Alaska. The grants are aimed at local governments, schools, and nonprofit organizations. Grant applications are accepted year-round. Applications will be reviewed as they are received, and grant awards will be announced following the council's quarterly meetings in May, August, November, and March.
The grants are intended to fund projects that:
Generate awareness of and participation in Arbor Day in Alaska
Increase public awareness of the benefits of trees and forests and build support for planting and caring for public trees.
Provide a public demonstration of the benefits of trees and/or proper tree selection, planting and care.
Use trees to solve community problems. Examples include reducing or treating storm water, creating wind breaks or living snow fences, restoring streams and rivers, planting fruit trees to provide healthy food, screening surfaces prone to graffiti, calming traffic, and beautifying school yards.
Grant funds were provided by contributions from the Society of American Foresters Cook Inlet and Yukon River Chapters, and Paul's Tree Service. For more information and grant application forms, visit: http://forestry.alaska.gov/community/council
CONTACT: Gino Graziano, council member, 907-786-6315, gagraziano@alaska.edu
Alaska Community Forest Council recruiting new members
The Alaska Community Forest Council is seeking individuals interested in highlighting the importance of forest and tree management in communities throughout Alaska by serving on the Council.
The council is a nonprofit organization that advises the Division of Forestry on how to improve Alaskans' quality of life by expanding and caring for urban and community forests. The council promotes the management of trees and forests within communities to maximize the many economic, environmental, and social benefits that they provide.
There are currently five open seats on the 15-member Council. Completed applications are due no later than Friday April 30, 2021. New appointees will be notified in late May, and the terms begin on July 1, 2021.
The open seats are: Seat D – Landscape Architect; Seat F – Construction/Right of Way; Seat H – Community Forestry/Beautification; Seat J – Alaska Cooperative Extension Service; and Seat O – Member at Large.
Council members are asked to attend all-day meetings four times each year. Members serve on working committees, handle the normal business responsibilities of a nonprofit, and support the care of trees and forests in the towns where they live. Members attend an orientation before the first meeting and are provided educational opportunities and hands-on training. Council members are reimbursed for travel expenses, if applicable.
Applications and information about the council and the Division of Forestry's Community Forestry Program are available on the web at: http://forestry.alaska.gov/community/council and the Community Forestry Program office at 269-8466 or communityforestry@alaska.gov
CONTACT: Josh Hightower, (907) 269-8466, communityforestry@alaska.gov
Grants available to remove chokecherry trees in Alaska communities
(Anchorage, AK) – Once considered pretty, fragrant ornamental trees, chokecherry trees across Alaska are now the target of a widespread control effort aimed at reducing the impact of these prolific flowering trees because of the threat they pose to moose, salmon and native plant species.
The USDA Forest Service and the Alaska Division of Forestry are offering grants to local governments and non-profit organizations to remove two types of invasive chokecherry trees from Alaska.
Both Prunus padus, commonly known as European bird cherry (EBC), chokecherry, or mayday trees, and Prunus virginiana, commonly known as Canadian red, or chokecherry, were originally introduced in Alaska as attractive, ornamental trees.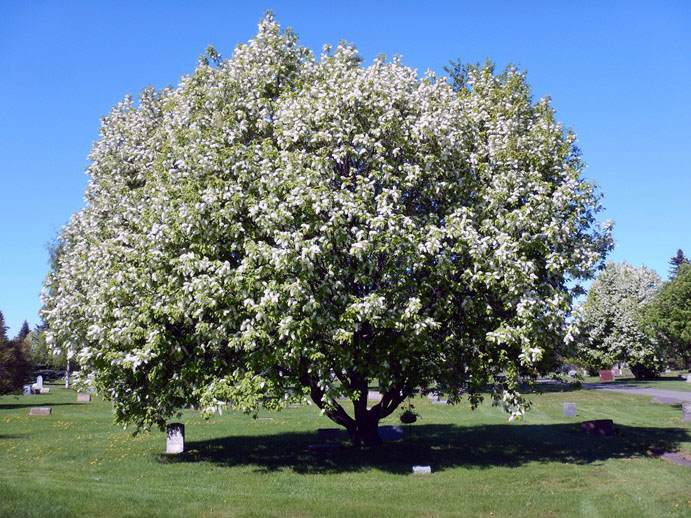 However, each has since been deemed an invasive species with the potential to significantly affect native ecosystems in Alaska.
"While chokecherry trees are a springtime favorite of many Alaskans for their beautiful and aromatic blossoms, they are becoming what some ecologists call 'rogue ornamentals,' "said Jim Renkert, manager of the Division's Community Forestry Program. "The pretty tree in our yards has gone feral in Alaska greenbelts and parks. In many areas it is aggressively outcompeting our native species and changing the habitat."
Now rapidly invading riparian and natural forest areas in Fairbanks, the Matanuska- Susitna Borough, the Municipality of Anchorage, the Kenai Peninsula Borough, and Juneau, Prunus padus is especially aggressive and poses several different hazards:
Prunus padus can take over the understory of forests, and form thickets where native plants once grew.
There are documented cases of moose dying of cyanide poisoning from consuming Prunus padus.
Future salmon populations may be smaller due to increasing streamside growth of Prunus padus, which produces less of the insect biomass that falls into water to provide food for juvenile salmon.
The grants are offered to help recipients identify and remove prominent stands of these two Prunus species from Alaska, and to train additional certified pesticide management consultants and applicators.
Approximately $200,000 is available in grants of up to $25,000 each. Grants will be awarded to applicants with knowledge and commitment to removing Prunus species from their communities. The application deadline is April 9, 2021.
Additional information is available in the request for proposals and grant application form at http://forestry.alaska.gov/community/grants
CONTACT: Jim Renkert, (907) 269-8465, jim.renkert@alaska.gov
Roadless Rule
On September 24, 2020, the U.S. Department of Agriculture released its Final Environmental Impact Statement for the Alaska Roadless Rule [USDA press release]. A copy of the final statement is available on the project website (click on the Analysis tab).
Governor Dunleavy issued a press release on September 25, 2020, supporting the USDA's FEIS:
After a thorough public process, the Forest Service's final Environmental Impact Statement identifies its Alternate Six – an unconditional, full exemption – as its preferred alternative. The Record of Decision (ROD) and final Alaska Roadless Rule are expected to be effective immediately after being published in late October.
For more information about the public process, see this link to the Alaska Roadless Rule Citizen's Advisory Committee.
Spruce Beetle Website Launched
The Spruce Beetle Working Group has recently launched a website with information on spruce beetle in Alaska's trees and forests. It is designed to be used by anyone who is interested in spruce beetles, has questions about spruce beetles, or has spruce beetle issues in their trees.
This website is a collaborative effort among the US Forest Service, the Department of Natural Resources - Division of Forestry, and the UAF-Cooperative Extension Service.
Forestry Social Media Sites
DOF now has Facebook, Twitter, and Youtube pages:
Individual links to Youtube content: