The health of Alaska's forests is monitored through ground-based and aerial surveys.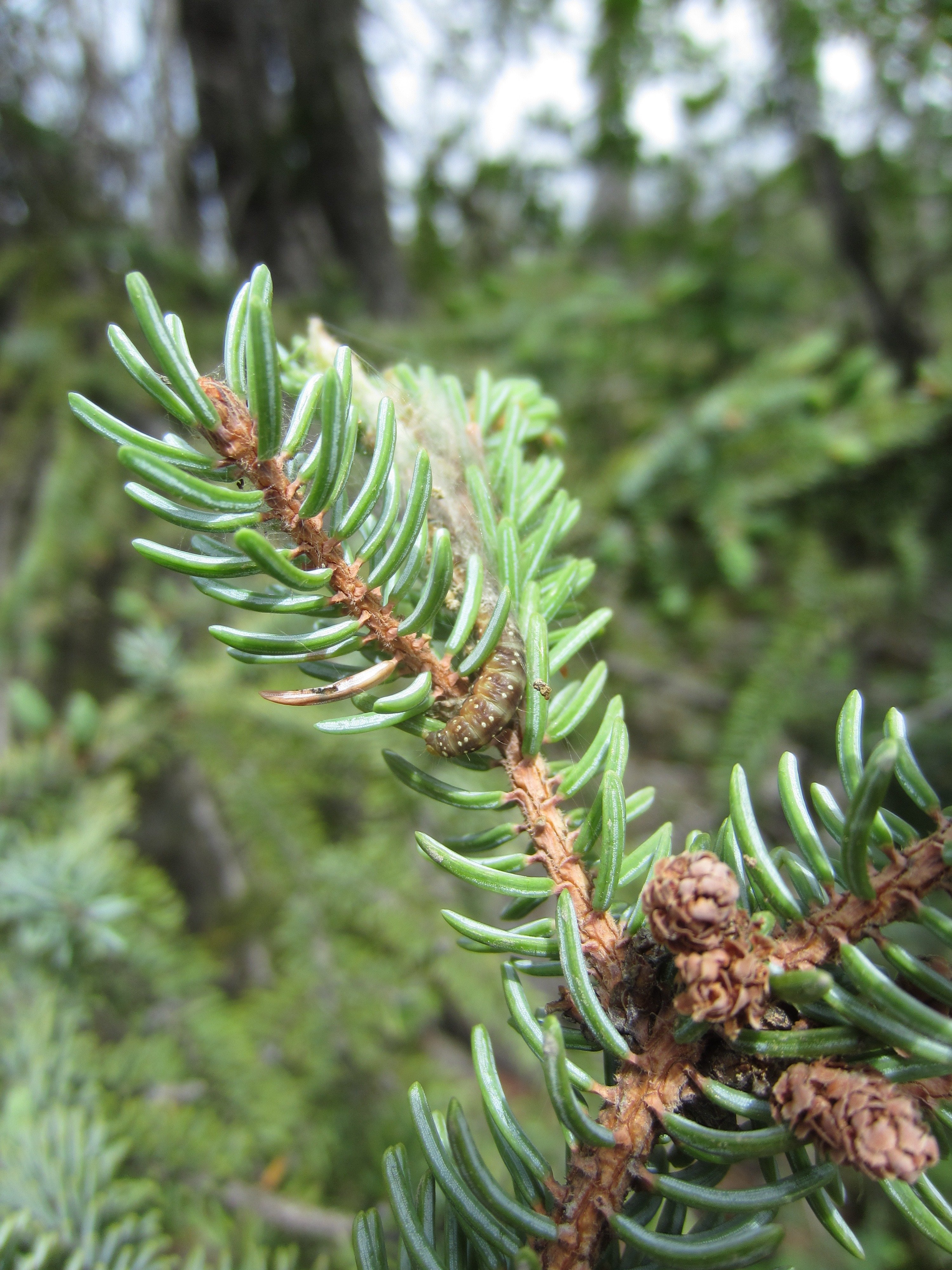 Ground Surveys
Ground surveys are used to monitor detailed forest health conditions in a given region. These surveys focus on insect, disease, or abiotic (non-living) stressors. Ground survey goals include monitoring pest populations over time, investigating pest biology, and detecting invasive species, among others. Ground surveys may vary year to year depending on program priorities and funding.
Spruce budworm larva
Alaska Division of Forestry
Aerial Surveys
Aerial surveys are the primary way that Alaska's forest health is monitored. These surveys are an efficient way to observe forest health over large areas. Aerial forest health surveys in Alaska are a cooperative effort between USDA Forest Service – Forest Health Protection and the Alaska Division of Forestry. Surveys take place in July and generally cover around 32 million acres annually.
From the air, surveyors can identify damage caused by forest insects, diseases, and abiotic stressors. This damage is digitally mapped and summarized in the annual Forest Health Conditions in Alaska report and other documents.
Data collected during these surveys is available to the public and can be downloaded from the USDA Forest Service - Forest Health Assessment and Applied Sciences Team's Insect and Disease Detection Survey Data Explorer. This data is also viewable in the Division of Forestry's Web Map Application and is made available to interested GIS users via a map service.
Willow leafblotch miner (orange) and willows with dieback (grey)
Alaska Division of Forestry
Aerial survey data disclaimer: USDA Forest Service - Forest Health Protection and the Alaska Division of Forestry make every attempt to accurately identify and locate forest damage from the air. A very small percentage of the mapped data can be ground-checked and it is possible that errors in the data exist. Maps and data may be updated without notice.
For more information:
Alaska Division of Forestry Forest Health Program
(907) 269-8460
Email