State campfire closure lifted as of July 18
As of 8 a.m. Thursday, July 18, the Alaska Division of Forestry has rescinded a campfire closure on state, private and municipal lands in Southcentral Alaska. Campfires under three feet in diameter are now allowed in the Matanuska-Susitna Borough, the Copper River Basin and the Kenai Peninsula Borough. While campfires will be allowed in designated fire pits and rings in state campgrounds within the Municipality of Anchorage, the Municipality is retaining its ban on outdoor fires within the rest of the Municipality. Likewise, while campfire closures are being lifted on state, municipal and private lands, campfire restrictions on some federal lands are being retained. The public needs to check with the appropriate federal agency to determine whether fire restrictions are in place on any specific federal land.

John "Chris" Maisch, State Forester & Director
550 W. 7th Ave. Suite 1450
Anchorage, AK 99501-3566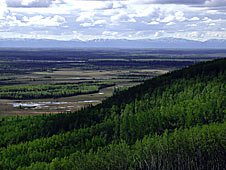 Community Forestry Stewardship/Landowner Assistance Forest Health Forest Practices and
Board of Forestry
The Division manages forests for multiple uses and the sustained yield of renewable resources on 20 million acres of State land. This includes the Tanana Valley, Haines, and Southeast State Forests. In 2011, the Alaska State Legislature added 23,181 acres of commercial forest lands to the existing Southeast State Forest.
The Division conducts personal use, commercial timber, and fuel-wood sales. It emphasizes in-state use of wood for value-added processing.
Quick References
---
The Division provides fire protection services and related fire and aviation management activities on 150 million acres of land throughout Alaska.
To Report a Wildland Fire
Call 911, your Area Forestry office, or Alaska Interagency Coordination Center at 1-800-237-3633.
Quick References
Fire Information