This information is intended for personnel "Resource Ordered" by the State of Alaska, Department of Natural Resources, Division of Forestry & Fire Protection.
Click HERE to view the Alaska Fire Orientation
So, you've been "resource ordered" by the Alaska Division of Forestry & Fire Protection. You're wondering; What can I expect? What should I bring? We've put together some information to help you plan and pack for your assignment.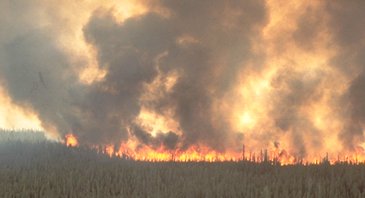 Everyone has the right to a safe assignment.
There will be NO compromise of public or fire fighter safety!
Wildland fire can occur across Alaska's 375 million acres as early as March and as late as October but the potential for "problem" fires begins in early May and runs into mid-August. Alaska experiences the typical human-caused fire problems in the populated areas while lightning accounts for most of the remote fires.
Three agencies provide fire protection in Alaska; the State's Division of Forestry & Fire Protection (DOF), the Bureau of Land Management's Alaska Fire Service (AFS), and the U.S. Forest Service (USFS). The Division of Forestry & Fire Protection protects the interior and southern portions of the state (the DOF has protection responsibility in most of the high population areas). The Alaska Fire Service protects the northern portion. The USFS protects the southern/southeast portion (see map below).
Each agency manages fires on all ownerships within their protection area. This innovative approach provides relatively quick and less costly responses given Alaska's checkerboard of individual land ownership. All three agencies share resources. Re-assignments to another agency's incidents or support offices are common and may occur even before your arrival.
In the early 1980s, Alaska's landowners, land managers and suppression agencies developed the most progressive and innovative fire management plans in the nation. These plans designated four protection levels that range from aggressive initial attack and suppression to simple monitoring actions. Determined by factors such as values at risk, wildlife habitat and suppression costs to name a few, these plans continue to provide clear and concise direction to Alaska's suppression agencies.
For more information on Wildland Fire Management in Alaska, read the document "The Basics" (pdf).
Assignment Duration
The Alaska Division of Forestry & Fire Protection expects a 14-day commitment from all who fill Alaska overhead orders. If your original assignment runs short of 14 days, expect reassignment to another incident, support office, or an overhead pool.
Alaska has terrific sightseeing opportunities so many individuals choose to tour portions of the state upon completion or their assignment. Check with the locals for recommendations. The Alaska Division of Forestry & Fire Protection will arrange your return travel based on your release date and time. If desired, it is up to the individual to change his or her return ticket and contact the home unit for approval to do so.
What is an Overhead Pool?
Consider an overhead pool as resources in a staging area, available for quick deployment where needed. During portions of active fire seasons, Alaska will occasionally request overhead through the National Interagency Coordination Center (NICC) to establish a pool of initial attack and suppression resources as well as some support personnel. Whether ordered by the DOF or AFS, Fort Wainwright in Fairbanks is the most common location for these pools.
The Alaska Briefing
The Division of Forestry & Fire Protection makes every effort to ensure that everyone "resource ordered" to Alaska attends the 2-hour Alaska briefing from either DOF or the Alaska Fire Service. The briefing goes into more detail on many subjects, including Alaska fire behavior.
What to Bring
Alaska adheres to the national standard of 65 pounds maximum for personal gear (PG). Alaska's weather changes rapidly so, chances are, you will experience cool, rainy conditions at some point during your assignment. Rain usually won't put out Alaska fires so don't count on going home because you've seen a couple of days of wet weather. Pack accordingly! We suggest warm thermal underwear, a jacket or wool sweater, 8-inch top boots, and rain gear. Many Alaska fires occur far from road systems so camps are usually remote with limited facilities. Tents are rarely available so bring your own.
Once in Alaska, an EFF pack (weight 20 pounds) is available upon request but the pack weight counts towards the 65-pound maximum.
EFF pack contents:
1 Sleeping Bag
1 pr. ear plugs
1 pr. leather work gloves
2 ea. 1 qt. canteen with cover
1 mosquito net (not a head net)
1 insect repellent
1 hand towel
1 personal first aid kit
1 10" file with handle
1 hard hat
1 bar soap
1 foot powder
1 pair goggles
1 black plastic sheeting
1 burlap bag
1 nylon cord
1 plastic or metal cup
1 duffel bag (holds above items)
Living Conditions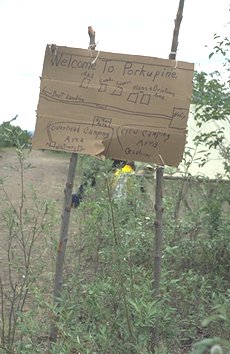 Alaska accommodations vary from modern hotels or barracks style quarters to remote fire camps.
Most fire camp situations will require tent living and sleeping on the ground (remember to bring your own tent). Fire camp food consists of Meals, Ready to Eat (MREs) or "Fresh Food Boxes". Each fresh food box provides food for 4 people for 3 days. In any case, you will be doing your own cooking over an open fire. Basic cooking utensils are available. Coleman two-burner stoves are sometimes, but not always, available. Virtually all Alaska fire camps are without telephones, indoor toilets, showers, laundry service, or other amenities that are common to "lower-48 camps.
Alaska fire camp living often means bugs, namely mosquitoes along with a couple of other annoying insects. Bug dope (Alaska jargon for insect repellent) is essential to your "quality of life". Do not leave home without it!
Food and garbage are bear magnets and sightings are quite common. Keep eating and sleeping areas separate and don't take food to your tent. Upon arrival in Alaska, you will be given an Alaska briefing that covers bears in more detail.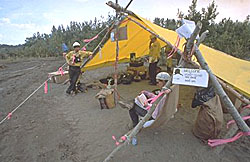 Support Office Assignments
Of the nine Division of Forestry & Fire Protection offices, only the McGrath Field Office has a mess/dining hall. If assigned to any other Forestry office, plan on either being placed in meal per-diem status or using locally issued meal chits. Per-diem requires you to cover your meal expenses while in Alaska and claim reimbursement after you return home. The DOF will provide lodging. Please refer to map below for more specific information on the 7 DOF area/district offices.
If you have any burning questions that cannot wait until your arrival call:
State Logistics Center (907) 451-2680
---
---

Fairbanks Area Forestry (FAS)
Fairbanks, the state's second largest city, is in the center of Alaska's interior. Fairbanks Area is the division's most northern office. Both the Richardson and Parks Highways terminate in Fairbanks. The Steese and Elliot Highways originate in Fairbanks and extend northward. The surrounding area is generally rolling hills to the north and somewhat flat between Fairbanks and the Alaska Range.
The Fairbanks Area has a significant human-caused fire problem in town and the outlying areas. Urban/interface fire situations are common. Lightning fires also occur with some frequency during summer months. The Fairbanks Area relies upon a Bell-212 helitack load and engine crews for initial attack responses in and around Fairbanks. Mutual aid responses with any of several local Structure Fire Departments are frequent.
For those on temporary assignment in the Fairbanks Area, the Division of Forestry & Fire Protection will provide lodging and meals at local hotels and restaurants.
Delta Area Forestry (DAS)
The Delta Area Office in the town of Delta Junction is just north of the Alaska Range about 95 highway miles southeast of Fairbanks. The Alaska Highway runs southeast from Delta Junction and enters the Tok protection area before reaching the Canadian border. The Richardson Highway links Delta Junction with Fairbanks to the northwest and Glennallen to the south. The protection area encompasses some 3.8 million acres.
Known for its fierce southern winds off the Alaska Range, the Delta Area experiences a season-long fire problem beginning in early May. Agricultural activities add significantly to the human-caused fire risk. Lightning is also prevalent in the Delta Area during the summer months
The Delta Area initial attack staff can respond in engines or as part of a Bell-212 helitack crew. The retardant base at Fort Wainwright in Fairbanks is about 75 air miles from Delta. The Delta Area retardant site is activated on an as-needed basis.
For those on temporary assignment in the Delta Area the Division of Forestry & Fire Protection will provide lodging and meals at local motels and restaurants.
Tok Area Forestry (TAS)
The Tok Area protection boundaries encompass 8.5 million acres from the Johnson River in the west to the Canadian border in the east; and from the village of Mentasta in the Alaska Range south of Tok to the community of Chicken in the north. The Alaska/Canada Highway, or Alcan, runs through Tok in a southeast/northwest direction. Extending from Tetlin Junction on the Alcan, the Taylor Highway heads northwards and ties in with the "Top of the World Highway" which extends to Dawson in the Yukon Territory.
The Tok Area experiences the typical eastern interior dry summers and lighting is frequent in June and July. The area has a four-person initial attack engine staff and shares a Bell-206L helicopter with one of its southern neighbors, the Valdez/Copper River Area. Operational in May, the Tanacross retardant site lies 20 miles east of Tok. Occasional large fires are a routine part of the Tok Area's fire history.
For those on temporary assignment in the Tok Area, the Division of Forestry & Fire Protection will provide lodging and meals at local motel and restaurant establishments.
Anchorage/Mat-Su Area Office (MSS)
The Anchorage/Mat-Su Area Office at Palmer is approximately 50 road miles northeast of Anchorage, Alaska's largest city. The Area encompasses about 14.5 million acres from Girdwood to the south, the Alaska Range to the north (mile 218 of the Parks Highway), from Rainy Pass in the west to Talkeetna Mountains in the east.
Starting as early as mid-April, the Area experiences an urban/interface fire problem that does not begin to diminish until "green up" in June. Although lightning fires are not uncommon, most of the District's fires are human caused.
The Area has 10 seasonal initial attack firefighters that can respond in engines or as part of a Bell-212 helitack crew. Mutual aid engine responses with local structure fire departments are routine. The Air Attack Base provides an airstrip and facilities for retardant, air attack, smokejumpers, cargo and other fixed or rotor wing aircraft operations.
For those on temporary assignment in the Mat-Su Area, the Division will provide meals and lodging at local motel and restaurant establishments.
Valdez/Copper River Area Office (CRS)
The Valdez/Copper River Area Office covers 26 million acres of the southeast portion of the Alaska mainland. The Alaska, Chugach, Talkeetna, and Wrangell Mountain Ranges all converge in the Copper River Valley. Valdez, in the extreme southern portion of the protection area, is the largest city in this sparsely populated area. The Richardson and Glenn Highways span the valley in all directions. The Valdez/Copper River Area Office is 5 miles south of Glennallen at Mile 110 of the Richardson Highway.
Alaska's most volatile forest fuel, black spruce, covers most of the area but the relatively small population base results in a somewhat lower human-caused fire risk in comparison to the state's major population centers. The Copper River Valley also experiences slightly less lightning activity than Alaska's interior.
The area has a four-person initial attack engine staff and shares a Bell-206L helicopter with one of its northern neighbors, the Tok Area. The Gulkana airport, 8 miles north of the office, is the center of the valley's aviation activities.
For those on temporary assignment in the Valdez/Copper River Area, the Division of Forestry & Fire Protection will provide lodging and meals at local motel and restaurant establishments.
Kenai/Kodiak Area Office (KKS)
The Kenai/Kodiak Area Office is two miles north of Soldotna at mile 92.5 of the Sterling highway. The protection area encompasses 11.8 million acres. Probably the most popular recreational area in Alaska, the Kenai Peninsula itself is a generally flat broad plain, bordered by the Kenai Mountains to the east and Cook Inlet to the west, north, and south. Kodiak, home of the famous brown bear, and its adjoining islands are mostly mountainous, rugged country.
Resulting from the extensive settlements and the numerous recreational activities in the area, wildland/urban interface incidents are routine. A coastal influence produces a relatively mild climate in this high land and resource value area. Lightning fires are rare but not unheard of.
For those on temporary assignment in the Kenai/Kodiak Area, the Division of Forestry & Fire Protection will provide lodging and meals at local motel and restaurant establishments.
Southwest District Office (SWS)]
The Southwest Area Office in McGrath, 195 miles west of Anchorage, is accessible by air only. Numerous Alaska villages, mostly situated along rivers, are spread throughout the 66.6 million acre protection. The terrain varies from mountainous uplands to lowland flats. The Alaska Range serves as the protection area's eastern boundary, the Bering Sea the western. The Southwest Area extends southward to the coast and northward to the Galena protection boundary.
Lightning accounts for about 80% of the Southwest Area ignitions. During peak activity periods, the office situation unit may track and monitor anywhere from a few to as many as 50 fires daily. In a remote, road-less area of this size, daily aerial reconnaissance is essential. Whether it's smokejumper or helitack activities, air tankers, or detection and mapping aircraft, the Southwest Area is all about air operations.
Those on temporary assignment at McGrath will have meals provided at the mess hall. Housing will be in the form of an assigned bunk on the office compound.
---
Note: Files in pdf format require Adobe Acrobat Reader to view, save or print.