NASF Centennial School Tree Challenge
Planting a tree symbolizes Strength, Resilience and Hope. In 2020 COVID-19 is touching all our lives. Planting a tree is a way to affirm the future.
The National Association of State Foresters is celebrating its 100th anniversary in 2020 with a Centennial Challenge campaign. The campaign is to honor the work of the association in providing a unified voice for state and private forestry in the United States since 1920, and to highlight the social, environmental, and economic contributions state forestry agencies have made nationwide for over a century.
NASF will be spotlighting state forestry agencies and their work to complete 100-themed challenges throughout the centennial campaign.
In Alaska we have a Centennial Challenge for schools to apply for tree grants through the remainder of 2020. The goal is to have 100 schools plant a tree to celebrate Arbor Day and to celebrate Alaskans strength and resiliency.
Thanks to the US Forest Service, the Alaska Department of Natural Resources Division of Forestry has grants for up to $400.00 for the purchase, shipping and planting of trees. Trees can be planted on school grounds, or even indoors if your school has a suitable space or a greenhouse.
Established in 1872, Arbor Day is set aside to plant trees, educate children and adults about their importance, and raise awareness about the many social and economic benefits that trees provide. Arbor Day is celebrated on the third Monday in May in Alaska. In 2020 Alaska's official Arbor Day is May 18th. Schools can apply for grants anytime this year, but the actual plantings can be done in 2020 or 2021.
This is also an excellent opportunity for schools to become recognized by the national Arbor Day Foundation as a Tree Campus K-12. The goal of this program is to "inspire the next generation of tree stewards through experiences that bring the benefits of trees to life both outside and in the classroom." To achieve recognition, schools are required to meet four basic program goals: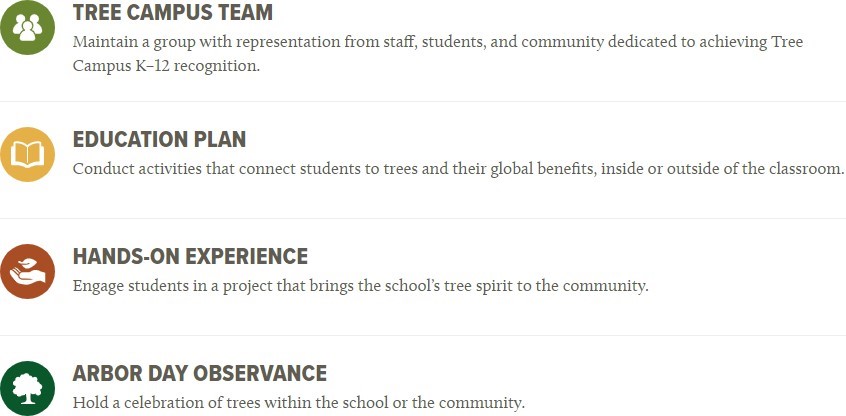 Schools are encouraged to involve students in the application and planning process. Simply by completing this application process and hosting a student-led planting event, schools can reach many of the benchmarks required for recognition. For more information about becoming a Tree Campus K-12 and the many benefits associated with recognition, visit the Arbor Day Foundation Website: https://www.arborday.org/programs/tree-campus-k-12/
Email proposals to: community.forester@alaska.gov
Mail or deliver proposals to:
Alaska Department of Natural Resources Division of Forestry
Community Forestry Program
550 W. Seventh Avenue, Suite 1450
Anchorage, Alaska 99501
For additional informations contact: Josh Hightower, Community Assistance Forester, (907) 269-8466, josh.hightower@alaska.gov or Jim Renkert, Community Forestry Coordinator, (907) 269-8465, jim.renkert@alaska.gov
State Forestry extends grant deadline for creative tree growing to June 1
The Alaska Division of Forestry's Community Forestry Program has extended the deadline for non-profit organizations and government entities to apply for grants to fund demonstration projects for tree plantings or orchards.
The grants, of up to $15,000, are intended to fund projects identifying different types of tree species, varieties or cultivars that can thrive in Alaska's unique climates, and to demonstrate new or innovative ways to help them do so. The new application deadline is 5 p.m. on Monday, June 1.
Project applications could include, but are not limited to, new technology, techniques, or approaches for street tree plantings, containerized orchards, seedling cultivation, biochar use or other pioneering ideas. Applicants are encouraged to be creative.
With funding assistance from the USDA Forest Service, the Division of Forestry has approximately $25,000 in total grant funds available. Applicants must be non-profit organizations or government entities.
Grants can be used for the purchase of A) trees, saplings, seedlings, or orchard trees; B) mulch, stakes, hoses, gloves, or other planting items and materials; C) educational materials; D) other required material and equipment; and E) limited shipping services.
Trees must be planted on public land within a community, and grant applications must include a three-year maintenance plan. Applicants working with schools are encouraged to consider involving students in the research and design, and to be creative and thoughtful in their plan design.
These projects will help the Division of Forestry evaluate the success of different demonstration and test projects, share results, and make recommendations.
For more information and application instructions, go to http://forestry.alaska.gov/community/grants
CONTACT: Jim Renkert, (907) 269-8465, jim.renkert@alaska.gov, or Josh Hightower at (907) 269-8466, josh.hightower@alaska.gov
Documents in PDF format require Adobe Acrobat Reader to view, save or print.