NASF School Tree Grants
Planting a tree symbolizes strength, resilience and hope. COVID-19 has touched all our lives. Planting a tree is a way to affirm the future.
Thanks to the US Forest Service, the Alaska Department of Natural Resources Division of Forestry has grants for up to $400.00 for schools to plant trees in celebration of Arbor Day. Grant funds can be used for the purchase, shipping and planting of trees. Trees can be planted on school grounds, or even indoors if your school has a suitable space or a greenhouse. Applications will be accepted until December 10, 2021. Apply today!
Established in 1872, Arbor Day is set aside to plant trees, educate children and adults about their importance, and raise awareness about the many social and economic benefits that trees provide. Arbor Day is celebrated on the third Monday in May in Alaska. In 2022 Alaska's official Arbor Day is May 16th.
Mail or deliver proposal to:
Alaska Department of Natural Resources
Division of Forestry
Community Forestry Program
550 W. Seventh Avenue, Suite 1450
Anchorage, Alaska 99501
For additional informations contact:
Project Learning Tree
The Alaska Division of Forestry is also teaming up with Project Learning Tree to provide applicants with free curriculum to connect students to your school's trees, or trees in their communities. Project Learning Tree (PLT) is a national environmental education program that uses trees and forests as windows for learning, and is an initiative of the Sustainable Forestry Initiative (SFI). With funding from SFI, applicants can access PLT's new, downloadable Theme-based activity collections for educators. The following collections are available:
These collections are theme-based, and include 3 activities with outdoor learning components, printable student pages and (some) adaptations for remote learners. All activities are NGSS correlated (sample here), and highlight academic standards in ELA, Math and Social Studies as applicable. Although organized by grade level, many activities also include variations for other grade levels. For more information about these educational resources, contact Molly Gillespie, Alaska PLT State Coordinator.
Tree Campus K-12
The NASF grant and Project Learning Tree curriculum are also excellent opportunities for schools to become recognized by the national Arbor Day Foundation as a Tree Campus K-12. The goal of this program is to "inspire the next generation of tree stewards through experiences that bring the benefits of trees to life both outside and in the classroom." To achieve recognition, schools are required to meet four basic program goals: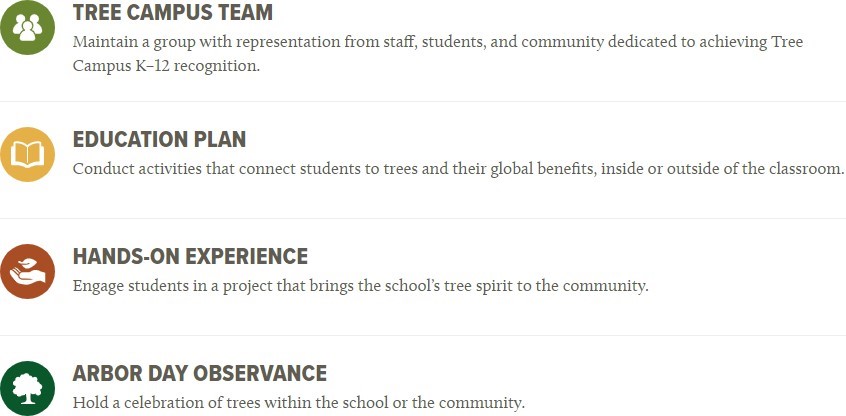 Schools are encouraged to involve students in the application and planning process. Simply by completing this application process and hosting a student-led planting event, schools can reach many of the benchmarks required for recognition. For more information about becoming a Tree Campus K-12 and the many benefits associated with recognition, visit the Arbor Day Foundation Website.
Alaska Community Forest Council offers Arbor Day grants
The Alaska Community Forest Council is offering grants to help organizations commemorate Arbor Day in Alaska, which will be celebrated on May 17.
Arbor Day is America's national tree planting holiday, a day set aside to plant ceremonial trees, educate children about the significance of trees, and honor the crucial role that trees play in our communities and lives. In Alaska, Arbor Day is celebrated on the third Monday in May.
The Alaska Community Forest Council is a nonprofit organization with 15 members from around the state, which advises the Division of Forestry on how to develop and deliver community forestry programs to Alaskans, support education, and encourage public involvement.
The council is offering grants in the $200-$500 range, which can be used to plant trees or shrubs, or support other activities that promote Arbor Day in Alaska. The grants are aimed at local governments, schools, and nonprofit organizations. Grant applications are accepted year-round. Applications will be reviewed as they are received, and grant awards will be announced following the council's quarterly meetings in May, August, November, and March.
The grants are intended to fund projects that:
Generate awareness of and participation in Arbor Day in Alaska
Increase public awareness of the benefits of trees and forests and build support for planting and caring for public trees
Provide a public demonstration of the benefits of trees and/or proper tree selection, planting and care
Use trees to solve community problems. Examples include reducing or treating storm water, creating wind breaks or living snow fences, restoring streams and rivers, planting fruit trees to provide healthy food, screening surfaces prone to graffiti, calming traffic, and beautifying school yards
Grant funds were provided by contributions from the Society of American Foresters Cook Inlet and Yukon River Chapters, and Paul's Tree Service. For more information and grant application forms, visit: http://forestry.alaska.gov/community/council
CONTACT: Gino Graziano, council member, 907-786-6315, gagraziano@alaska.edu
Documents in PDF format require Adobe Acrobat Reader to view, save or print.