Grants available to remove invasive chokecherry trees from Alaska
The USDA Forest Service (USFS) and the DNR, Division of Forestry, Urban and Community Forestry Program (CFP) and Forest Health Program have grant monies available to local governments and non-profits to control invasive Prunus padus, commonly known as European bird cherry (EBC), chokecherry or mayday trees and Prunus virginiana, commonly known as Canadian red and chokecherry. The Prunus padus & Prunus virginiana Control Grants are 100% cost-reimbursable grants. Applications must be returned by April 9, 2021 .Introduced in Alaska as attractive ornamentals for yards and community park lands Prunus padus and Prunus virginiana have begun to reproduce on their own and spread to greenbelts and forestlands. They are creating monocultures in some areas that are impacting and displacing native Alaska trees, shrubs and forbs. Prunus padus is especially aggressive and is now rapidly invading riparian streams and natural forests in Fairbanks, the Matanuska-Susitna Borough, the Municipality of Anchorage, the Kenai Peninsula Borough, and Juneau.
Prunus padus can take over the understory of forests, and form thickets where native plants once grew.
Prunus can be fatal to moose that graze on the bark, which contains naturally occurring cyanide.
When compared to native streamside vegetation, EBC growing along Anchorage creeks has been shown to produce significantly less insect biomass. Insects falling into the creeks from streamside vegetation are known to be a critical food resource for juvenile salmonids. As EBC displaces native vegetation along Alaska's waterways, it may adversely affect salmon populations over time. Invasive European bird cherry (Prunus padus) reduces terrestrial prey subsidies to urban Alaskan salmon streams
Project Description
The USFS and the CFP will provide grant monies to local governments and non-profits to control the spread of Prunus padus and Prunus virginiana.
Project goals include the documentation of prominent Prunus padus and Prunus virginiana locations, training of additional certified Integrated Pest Management consultants and applicators, and the control/reduction of significant stands of Prunus padus and Prunus virginiana. Grantees may use some combination of manual, mechanical, and/or chemical control methods to achieve management goals.
Early detection, rapid response, treatment and control of new or isolated locations of Prunus species is also a primary goal.
These funds will be granted to awardees who have knowledge and commitment to controlling Prunus species in their communities.
Eligible costs for grant monies
Using remote sensing methods such as Treeworks, iTree or other GIS methods to map areas of Prunus padus and Prunus virginiana.
Purchase of computer software which will aid in the mapping and reporting of the project.
Conducting public outreach activities/events specifically geared toward educating the public about the invasiveness of these two species and alternative, non-invasive ornamental plants.
Community education, multi-media, social media and public outreach material development.
Training of staff necessary to complete the funded project (training must be specified in the grant proposal and agreement).
Project management (planning, administration, and follow-up monitoring).
Hiring crews or contracting work to control Prunus padus and Prunus virginiana through Integrated Pest Management techniques
Purchase of materials and supplies for Integrated Pest Management
Equipment rental or lease (leases must be specified in the grant proposal and agreement).
Organizing community volunteer weed pulls.
Other items as determined by the grant review committee.
Grant applications that include partnerships between local governments and local or regional non-profits are encouraged. Grant applications that leverage additional work through in-kind services, volunteer labor, and cash are also encouraged. Applicants may apply for up to $25,000. Approximately $100,000 is available to fund projects. Management of the grants will be conducted by the CFP. Grants will be awarded for up to three years. Grant awardees will be responsible for submitting a final report. NOTE: Prunus padus and Prunus virginiana are not currently listed as noxious weeds and are not regulated or prohibited under the Alaska Administrative Code. The Division of Forestry will assist cooperators who wish to remove and/or replace these trees on a voluntary basis.
Click below for application materials:
Prunus Control Grant Request For Proposal (PDF)
Prunus Control Grant Announcement (PDF)
Prunus Control Grant Budget Form (Excel)
Email proposal to: communityforestry@alaska.gov or mail or deliver proposal to: Alaska Department of Natural Resources Division of Forestry Community Forestry Program 550 W. Seventh Avenue, Suite 1450 Anchorage, Alaska 99501
For additional information contact: Josh Hightower, Community Assistance Forester, josh.hightower@alaska.gov, 907-269-8466 or Jim Renkert, Community Forestry Coordinator, jim.renkert@alaska.gov, 907-269-8465
NASF Centennial School Tree Challenge
Planting a tree symbolizes Strength, Resilience and Hope. COVID-19 has touched all our lives. Planting a tree is a way to affirm the future.
The National Association of State Foresters celebrated its 100th anniversary in 2020 by launching the Centennial Challenge campaign. The campaign is to honor the work of the association in providing a unified voice for state and private forestry in the United States since 1920, and to highlight the social, environmental, and economic contributions state forestry agencies have made nationwide for over a century.
NASF will be spotlighting state forestry agencies and their work to complete 100-themed challenges throughout the centennial campaign.
NASF will be spotlighting state forestry agencies and their work to complete 100-themed challenges throughout the centennial campaign.
In Alaska our goal is to have 100 schools plant a tree to celebrate Arbor Day and the strength and resiliency of Alaskans. Established in 1872, Arbor Day is set aside to plant trees, educate children and adults about their importance, and raise awareness about the many social and economic benefits that trees provide. Arbor Day is celebrated on the third Monday in May in Alaska. In 2021 Alaska's official Arbor Day is May 17th.
Thanks to the US Forest Service, the Alaska Department of Natural Resources Division of Forestry has cost-reimbursable grants for up to $400.00 for the purchase, shipping and planting of trees. Trees can be planted on school grounds, or even indoors if your school has a suitable space or a greenhouse. Applications will be accepted until funding is exhausted or until this grant program is closed. Apply today!
Mail or deliver proposal to:
Alaska Department of Natural Resources
Division of Forestry
Community Forestry Program
550 W. Seventh Avenue, Suite 1450
Anchorage, Alaska 99501
For additional informations contact:
Project Learning Tree
The Alaska Division of Forestry is also teaming up with Project Learning Tree to provide applicants with free curriculum to connect students to your school's trees, or trees in their communities. Project Learning Tree (PLT) is a national environmental education program that uses trees and forests as windows for learning, and is an initiative of the Sustainable Forestry Initiative (SFI). With funding from SFI, applicants can access PLT's new, downloadable Theme-based activity collections for educators. The following collections are available:
These collections are theme-based, and include 3 activities with outdoor learning components, printable student pages and (some) adaptations for remote learners. All activities are NGSS correlated (sample here), and highlight academic standards in ELA, Math and Social Studies as applicable. Although organized by grade level, many activities also include variations for other grade levels. For more information about these educational resources, contact Molly Gillespie, Alaska PLT State Coordinator.
Tree Campus K-12
The NASF grant and Project Learning Tree curriculum are also excellent opportunities for schools to become recognized by the national Arbor Day Foundation as a Tree Campus K-12. The goal of this program is to "inspire the next generation of tree stewards through experiences that bring the benefits of trees to life both outside and in the classroom." To achieve recognition, schools are required to meet four basic program goals: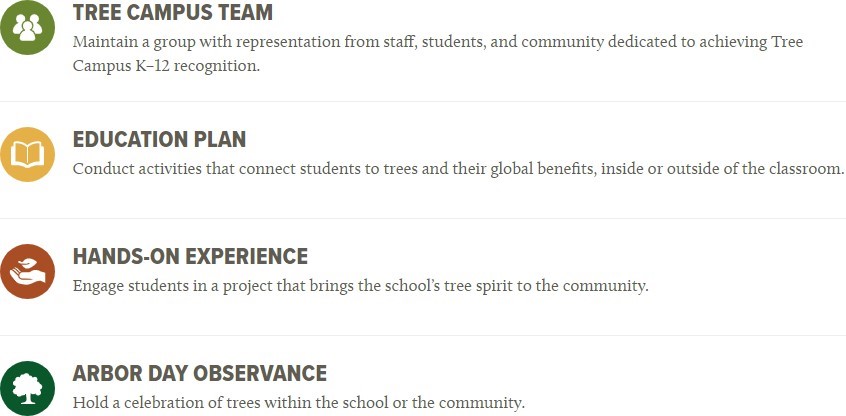 Schools are encouraged to involve students in the application and planning process. Simply by completing this application process and hosting a student-led planting event, schools can reach many of the benchmarks required for recognition. For more information about becoming a Tree Campus K-12 and the many benefits associated with recognition, visit the Arbor Day Foundation Website.
State Forestry extends grant deadline for creative tree growing to June 1
The Alaska Division of Forestry's Community Forestry Program has extended the deadline for non-profit organizations and government entities to apply for grants to fund demonstration projects for tree plantings or orchards.
The grants, of up to $15,000, are intended to fund projects identifying different types of tree species, varieties or cultivars that can thrive in Alaska's unique climates, and to demonstrate new or innovative ways to help them do so. The new application deadline is 5 p.m. on Monday, June 1.
Project applications could include, but are not limited to, new technology, techniques, or approaches for street tree plantings, containerized orchards, seedling cultivation, biochar use or other pioneering ideas. Applicants are encouraged to be creative.
With funding assistance from the USDA Forest Service, the Division of Forestry has approximately $25,000 in total grant funds available. Applicants must be non-profit organizations or government entities.
Grants can be used for the purchase of A) trees, saplings, seedlings, or orchard trees; B) mulch, stakes, hoses, gloves, or other planting items and materials; C) educational materials; D) other required material and equipment; and E) limited shipping services.
Trees must be planted on public land within a community, and grant applications must include a three-year maintenance plan. Applicants working with schools are encouraged to consider involving students in the research and design, and to be creative and thoughtful in their plan design.
These projects will help the Division of Forestry evaluate the success of different demonstration and test projects, share results, and make recommendations.
For more information and application instructions, go to http://forestry.alaska.gov/community/grants
CONTACT: Jim Renkert, (907) 269-8465, jim.renkert@alaska.gov, or Josh Hightower at (907) 269-8466, josh.hightower@alaska.gov
Documents in PDF format require Adobe Acrobat Reader to view, save or print.